Back to the archive

January 2022
---


News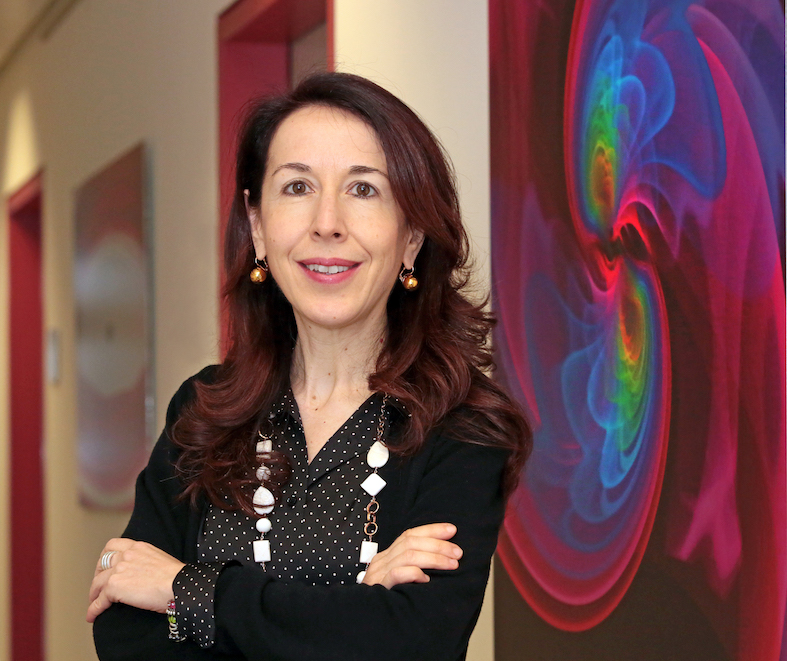 Salam Lecture Series
ICTP was honoured to host physicist Alessandra Buonanno, of the Max Planck Institute for Gravitational Physics, Germany and the University of Maryland, USA, and one of ICTP's 2021 Dirac Medallists, for the 2022 Salam Distinguished Lecture Series. Professor Buonanno delivered three lectures on 27, 28 and 31 January at 16:00 CET on gravitational waves and the fundamental observations carried out with the LIGO and Virgo detectors. Buonanno is a Principal Investigator of the LIGO Scientific Collaboration, and for her contributions to LIGO and Virgo discoveries, she was awarded several prizes, including the 2018 Gottfried Wilhelm Leibniz prize – the most prestigious research prize in Germany, the 2021 Galileo Galilei Medal, the 2021 Dirac Medal and the 2021 Balzan Prize. The lecture series is generously supported by the Kuwait Foundation for the Advancement of Sciences (KFAS). Read more ...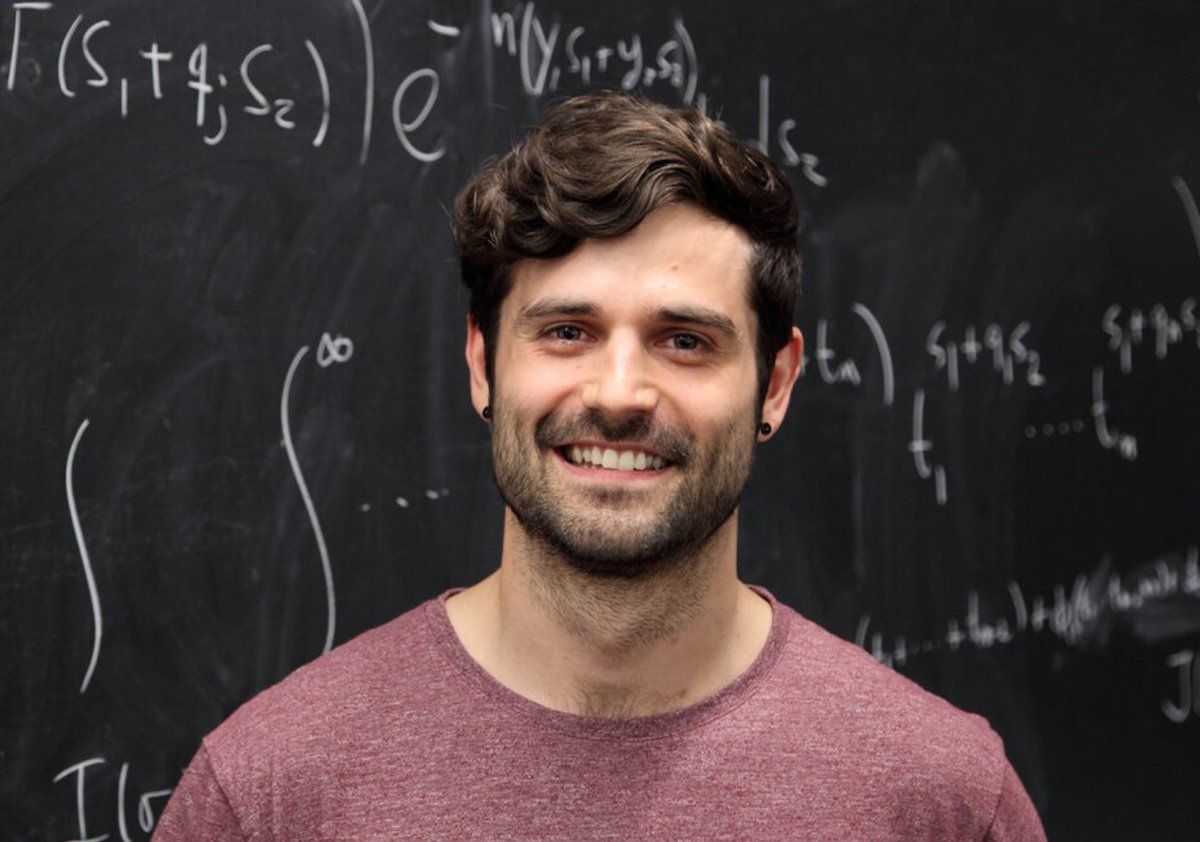 Young ICTP Researcher Wins Prestigious ERC Grant
Congratulations to ICTP researcher Jean Barbier, who has been awarded a prestigious European Research Council Starting Grant to support his research in statistics for machine learning. A statistical physicist with a strong interest in mathematics and data science, Barbier works in ICTP's Quantitative Life Sciences section. The ERC grant will fund a five-year multidisciplinary project that will tackle questions concerning machine learning and neural networks using high-dimensional statistics, that is, the statistics needed to understand modern information processing and inference systems, and information theory. "Machine learning and neural networks are at the root of many technological applications, such as self-driving cars, natural language processing, and image recognition," says Barbier. "These are versatile and powerful algorithms, but they are extremely complex." Read more ...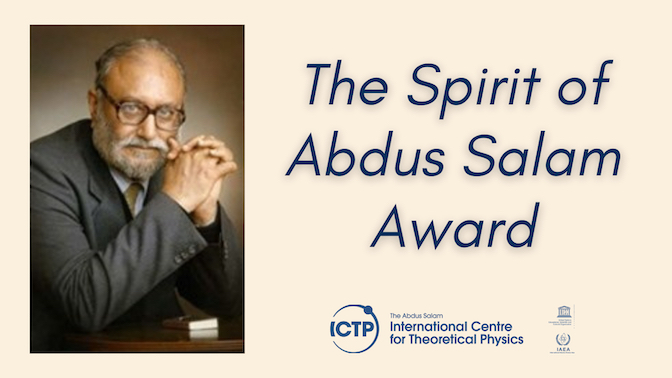 2022 Spirit of Salam Award Announced
CTP is proud to announce the winners of the 2022 Spirit of Abdus Salam Award. Announced annually on 29 January—Abdus Salam's birthday—the award recognizes those who, like Salam himself, have worked tirelessly to promote the development of science and technology in disadvantaged parts of the world. This year's Spirit of Abdus Salam Award recipients are Malik Maaza of South Africa, Concetta Mosca of Italy, and Adnan Shihab-Eldin of Kuwait. All three were recognized for their humanitarian passion and vision for the cooperation, promotion, and development of science and technology in the developing world. Read more ...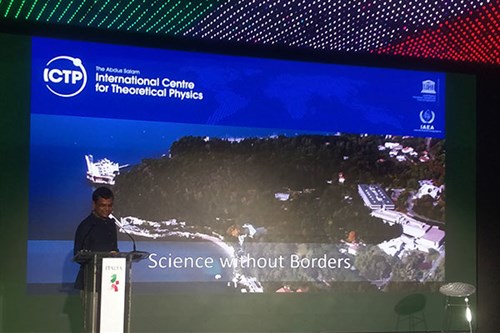 ICTP at Dubai World Expo
ICTP's mission and research took centre stage on 14 December at the 2020 World Expo, being held in Dubai from 1 October 2021 to 31 March 2022 under the theme "Opportunity Mobility Sustainability". It is the first World Expo to be held in an Arab country. Italy, ICTP's host country, is one of 200 nations represented at the event and held an event dedicated to international research institutions in Italy. The event, titled "Italian Research Institutions Facing Global Challenges", included a presentation by ICTP Director Atish Dabholkar, who promoted the Centre's "Science Without Borders" mission with a presentation focussed on ICTP's research, education and impact on science in the developing world. Read more ...
ICTP's 2022 Scientific Calendar Now Available
ICTP's 2022 Scientific Calendar is now published, with many details of a rich programme of conferences, schools, workshops and virtual seminars. From a high-performance computing workshop in Burkina Faso to the Spring School on superstring theory, from a nuclear energy management school to a conference on many body physics in superconducting devices, you can now explore the the variety of scientific activities happening on ICTP's website. Read more ...
Celebrating International Day of Women and Girls in Science 2022
February 11 is the International Day of Women and Girls in Science, celebrating and focusing on efforts to work towards gender equity in science. ICTP is hosting students from high schools in Trieste and across Italy for an event with two scientists involved in the International Panel on Climate Change's most recent report on the state of the planet's climate. Over the past decades, many women and girls have studied science, built careers in science, and inspired young people to get into science. Yet women and girls continue to be excluded from participating fully in science. The day focuses on efforts towards and barriers to full and equal access for women and girls to participation in science. Read more ...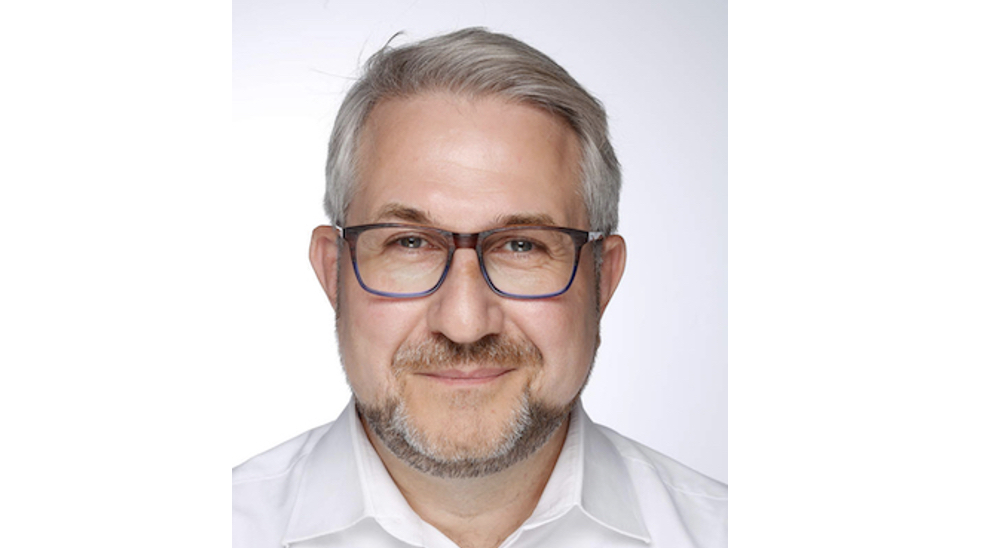 New staff: Introducing Ralf Kaiser
ICTP welcomes new staff member Ralf Kaiser, who has taken the post of Senior Coordinator for Programmes & Advancement. Kaiser studied Physics and Mathematics at the University of Münster, Germany, and obtained his PhD in High Energy Physics from Simon Fraser University, Vancouver, based on research carried out at the Canadian National Laboratory TRIUMF. After a postdoctoral fellowship at the German National Laboratory DESY in Hamburg, he was appointed to a faculty position in the Nuclear Physics Group at the University of Glasgow in 2001. For almost 20 years his research was focused on the fundamental structure of matter and on the design and construction of the detectors required for this research. In 2010 he joined the IAEA as Head of the Physics Section, responsible for the IAEA programmes on Accelerator Applications, Nuclear Instrumentation and Nuclear Fusion. In 2016 he founded Lynkeos Technology as a spin-off from the University of Glasgow, to commercialise the use of cosmic-ray muon imaging for nuclear waste containers. Since 2020 Ralf has been a Fellow of the Royal Society of Edinburgh.
---


Opportunities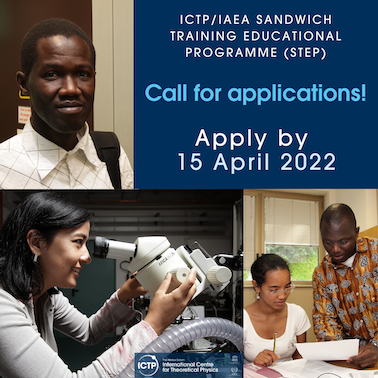 STEP Programme: Call for Applications
ICTP is accepting applications for its ICTP/IAEA Sandwich Training Educational Programme (STEP); the deadline is 15 April 2022. Applications are welcome from students in developing countries who are enrolled in a PhD course at their home university. The programme aims to enrich the doctoral studies of students by providing access to advising, conferences, and research support. With a STEP fellowship, PhD students study at their home universities but have the financial support to visit ICTP or a collaborating institute for a three- to six-month stay each year for three successive years. Fellowships are awarded on the merit of a thesis project proposed by students and their home country advisors. Find out more ...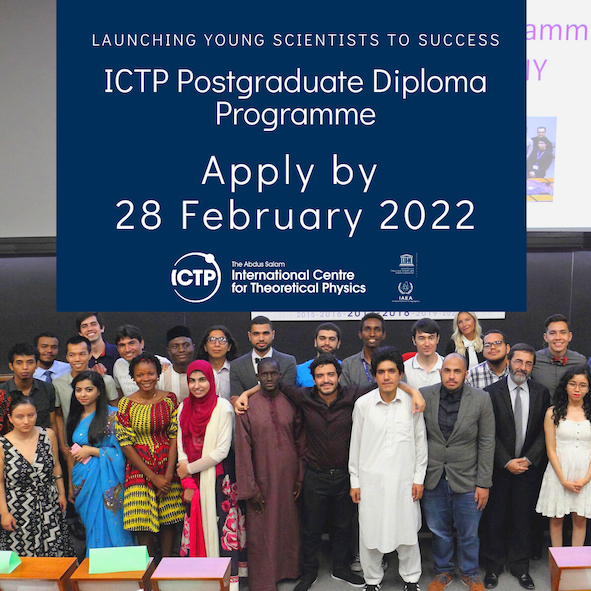 Call for Applications: ICTP Postgraduate Diploma Programme
ICTP is now accepting applications from young physicists and mathematicians for the 2022-2023 Postgraduate Diploma Programme. The one-year course of intense study prepares talented students for PhD studies; alumni have gone on to PhD programmes all over the world, launching them into successful scientific careers. Two semesters of classes are followed by a research project and dissertation. Students can apply to study in one of five subject areas: High Energy, Cosmology and Astroparticle Physics; Condensed Matter Physics; Earth System Physics; Mathematics; Quantitative Life Sciences. The deadline to apply is 28 February 2022, and you can apply online. A recent question and answer session with programme alumni and coordinators can be viewed on ICTP's Youtube channel. More information ...
QLS Postdoctoral Opportunity
The Quantitative Life Sciences section at ICTP is now accepting applications for a postdoctoral fellowship, starting spring/summer 2022. The application deadline is 1 March 2022. The QLS section has expertise in a broad range of fields including theoretical ecology, biological physics, statistical physics of information processing, machine learning, statistical inference, stochastic processes, and stochastic thermodynamics. Candidates should have a background in statistical physics and/or applied mathematics, and be able to carry active multidisciplinary research in at least one of the following research areas: stochastic thermodynamics; stochastic processes in biological physics; statistical physics of information processing; thermodynamics of computation; learning and coding theory. Candidates with expertise in theoretical aspects, data analysis, and numerical simulations are especially encouraged to apply. Learn more ...
Call for Affiliated Centres
The ICTP External Activities Unit is broadening the scope of its Affiliated Centres programme to increase opportunities for scientists from developing countries to participate in ICTP training and education programmes. A call for applications for these new opportunities is now open, with a deadline of 30 June 2022. Traditionally, ICTP's support to its Affiliated Centres financed postgraduate fellowships for PhD and masters students. The revised scheme goes beyond fellowships by supporting research and training initiatives at an institute or university department in a developing country that has or is planning to develop postgraduate programmes in physics, mathematics or related fields. The precise form of the collaboration between ICTP and the Affiliated Centre may vary depending on the specific needs of the Affiliated Centre. It may focus on research, training, or a combination of both. Find out more ...
---


Outside Opportunities
International Mathematical Union Fellowship Call
Thanks to a generous donation by the winners of the Breakthrough Prizes in Mathematics, the International Mathematical Union, with the assistance of FIMU, is opening a new call of the IMU Breakout Graduate Fellowship program to support postgraduate studies, in a developing country, leading to a PhD degree in the mathematical sciences. The IMU Breakout Graduate Fellowships offers a limited number of complete grants, with duration of up to four years, for excellent students from developing countries. Professional mathematicians are invited to nominate highly motivated and mathematically talented students from developing countries who plan to complete a doctoral degree in a developing country, including their own home country. The 2022 call will be open from February 1 to May 30, 2022.
The IMU is a co-sponsor of the DST-ICTP-IMU Ramanujan Prize for mathematicians from the developing world. Find more ...
---


Important links
---